---
In the latest national poll from Emerson Polling, Bernie Sanders has finally surpassed Joe Biden leading with 29 percent, Biden with 24 percent. These two candidates remain far ahead of the pack with Pete Buttigieg in third at 9 percent, Beto O'Rourke and Kamala Harris at 8 percent, and Elizabeth Warren at 7 percent. If Biden decided not to run, Bernie's support would gain 31 percent of Biden's voters. The poll was conducted April 11-14 and surveyed a total of 914 voters with 356 Democratic voters and had a margin of error of +/1 5.2%.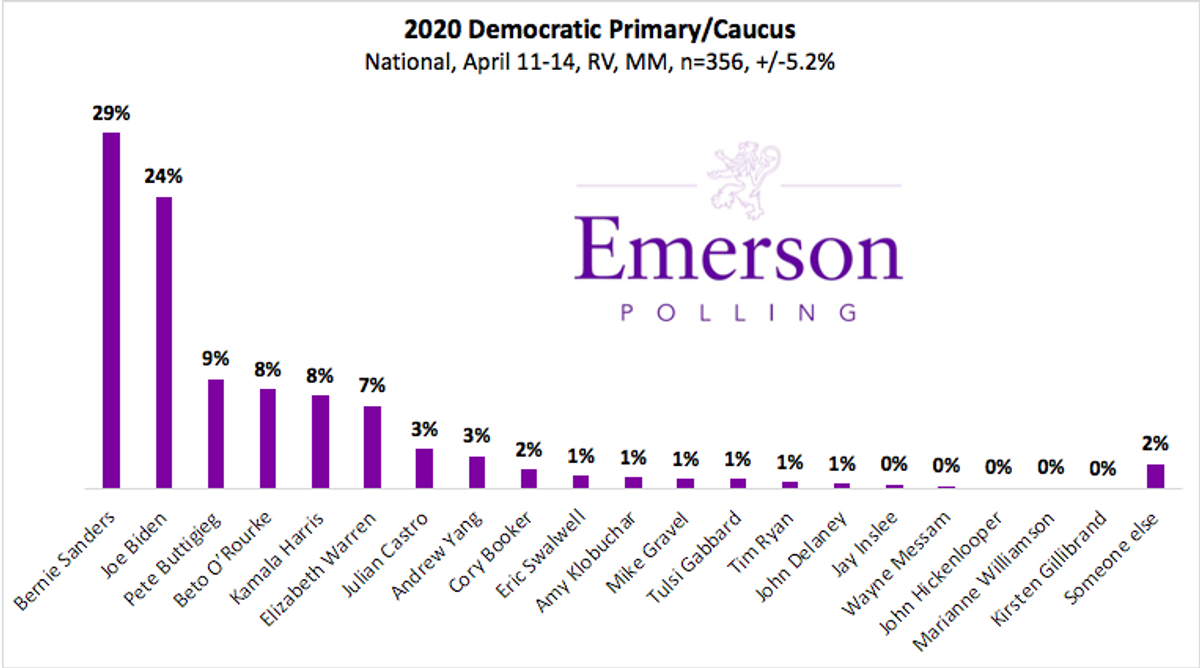 Trump's approval ratings have remained steady at 43 percent with a disapproval rating on 49 percent. Though Biden has yet to declare his candidacy, he would be the best candidate to run against Trump with an estimated advantage of 53% to 47%. However, the odds of Biden beating Trump have fallen since the previous poll which showed Biden beating Trump 55% to 45%. The following are the predicted results for the top candidates:
Biden 53%, Trump 47%
Sanders 51%, Trump 48%
O'Rourke 51%, Trump 49%
Harris 50%, Trump 50%
Buttigieg 49%, Trump 51%
Warren 48%, Trump 52%
Emerson only polled on a few issues in this survey. Out of all those polled, the building of the US-Mexico Border wall was very divided with 47 percent supporting and 45 percent opposing. 49 percent of people do not think that large tech giants need to be broken up compared to 29 percent thinking they should be broken up. 43 percent do not think we should intervene in helping Venezuela overthrow the Maduro Regime while 27 percent support it. 55 percent of voters do not think that incarcerated individuals should be allowed to vote while 30 percent believe they should. 65 percent of people think felons who have completed their prison sentences should be allowed to vote while 23 percent do not. The poll also asked several questions concerning voters' tax returns.
Click here to read the Emerson Polling article.
Click here to read the full raw results for the Emerson Polling.
Add Comment